An Evening with the Harp and David Watkins
Markenfield, 26 May 2016
An evening with 'The Harp and David Watkins' enlightening, enchanting and entertaining are just some of the words that come to mind after a most memorable musical evening given by David, who is without a doubt, master craftsman of his art.
David used the music to 'sculpture' the long history of the harp with charm and charisma capturing the timbres and characters of each period, thus bringing to life the music for a most tangible experience.
From the early 16th and 17th Century dry, honest tonal qualities of Cabazen, Peerson and Dowland to the 18th Century music of W. Croft and Parry, all of which were performed with the skill and panache required of such demanding and technical pieces.
Our musical journey continued through the 18th and 19th Centuries with, to name but a few, Spohr's 'Fantasia in C minor', the ever popular 'Watching the Wheat' by J. Thomas, 'Godefroid' and for the 20th Century, Debussy's 'Maid with the Flaxen Hair', all of which explore the washes of colour and sound therein associated with the Romantic era and the harp as we know it today.
An interlude of orchestral pieces, such as Wagner (a real workout with the pedalling for every harpist!) and the wonderful Tchaikovsky Nutcracker cadenza, familiar to all, was a welcome insight into the world of an orchestral performer and the challenges therein.
For the finale to the evening, David played two movements from his 'Petite Suite'. The thought provoking 'Nocturne' followed by a flourishing finish with the 'Fire Dance', a welcome warmer to go home with on a rather grey evening in May!
We had completed our journey through the ages of time. This had been more than a concert. It had been a real and personal insight into the life and music of a talented and working musician who had stories to tell that captivated and enlightened the audience whilst performing with charisma to inspire us all. This, together with the intimate setting of Markenfield Hall made for a very special and memorable evening.
Georgina Wells, Ripon Gazette
Extracts for E-mails & Letters after An Evening with the Harp and David Watkins
"Just a quick note to say a big thank you to you for the evening at Markenfield. It was really enjoyable from the warm welcome to the delightful harp music. I was very pleased to finally hear David playing and was hugely entertained by his lovely stories about his years as an orchestral musician. There was a great atmosphere and you could tell how David's lovely manner and charm had won the audience over."
~~~~~~~
"I thought the evening was a huge success. David was quite brilliant and thanks to your efforts it was a lovely audience. David is so loving and giving which comes over so beautifully in both his speaking and playing. People were really thrilled with the evening."
~~~~~~~
"Thank you so much for the evening at Markenfield, it was very enjoyable and such a wonderful venue. Maureen and Tom were bowled over by the whole experience. I thought that David was on top form, beautiful music and very entertaining repartee."
~~~~~~~
"Thank you for giving me a nudge to attend David's Harp recital! I am so pleased that I was able to go as I found the evening really uplifting. His enthusiasm is breathtaking and combined with his wonderful music with the anecdotes it was an occasion that will stay with me for ever!"
~~~~~~~
"Thank you so much for the wonderful evening last Thursday at Markenfield. As I am sure you realised, it was a great success much enjoyed by everyone there. It was one of the best attended events we have had. I hope you enjoyed it as well."
---
David Watkins
Sherwell United Church in Plymouth (review)
If there was an ideal menu for a lunchtime recital, then David Watkins's fascinating examination of Romantic harp music would certainly be up there with the best.
David, of course, has had many years of experience, not only as a performer, but also a presenter, and nowhere was this more apparent than in his impeccable timing, never falling into the trap of seeking to explain in words what music always does better in sound, and which easily causes embarrassing over-runs for the less adept.
Many artists fight shy of playing for an hour completely from memory. But the tremendous immediacy, unhampered by the noisy intrusions of page-turning or the physical barrier between player and listener, makes this such a desirable accomplishment, requiring, as it does, an intimate, rather than superficial knowledge of the score.
Couple a truly delightful programme of harp favourites and less-familiar repertoire, with David's charming and immensely modest delivery, replete with anecdotes and relevant background information along the way, and you already have all the right ingredients.
Add in some of David's own compositions, always so exquisitely and totally idiomatically written, and you could want for little more.
David suggested that the theme of love permeated each piece in his programme. This was undoubtedly true, but if there was any one real love affair, it was surely that of player with his instrument.
PHILIP R BUTTALL
www.southwestshows.co.uk 19 November 2010
---
Technical Mastery and Control in Harp Concert
David Watkins (harp)
City Museum
There could hardly have been a better way to take time out from the hassles of the festive season than spending an hour in the enchanting company of harpist David Watkins.
David had chosen a programme of short and attractive pieces which really highlighted the instrument's best qualities, and which he presented with the bare minimum of spoken introduction, ensuring that this hour-long recital was virtually wall-to-wall music.
Despite this, part of David's charm is his really unassuming delivery, both when playing music by other composers and, indeed, his own pieces.
In a recital which encompassed works from Croft to Godfroid and featured such immediately appealing items as Zabel's Sad Marguerite At the Spinning Wheel, Spohr's Fantasy and a crossover version of Liszt's well-known Consolation which now seemed better suited to the harp than the original piano, David's assured technical mastery and control were irrefutable.
A Welsh Landscape, dedicated to Pembrokeshire poet, sculptor and fellow-harpist Rosalind Sharples, attested to David's standalone skill as a composer where, not surprisingly, the writing was both totally idiomatic and eminently successful in conveying the music's descriptive programme. With a short seasonal inclusive, Simon Wright's simple yet effective take on Silent Night, and a generous encore, this was not only an immensely enjoyable concert, but the perfect template for those who follow, in terms of length, content and balance.
PHILIP R BUTTAL
Plymouth Herald 15 December 2008.
---
Recital for the Mayfield Festival
"Thank you for a wonderful recital. It was not only your playing with such sensitivity and colours but the sheer presentation and the way you had the audience in the palm of your hand."
Neil Mackie C.B.E. 28 April 2008
---
Concert at Hellens Manor, Herefordshire
Michael Bochmann (violin), David Watkins (harp) and Jane Leslie Mackenzie (Soprano).
"These days, in recitals, soloists don't have accompanists they have collaborative artists".
But when did you last see either an accompanist or a collaborative artist, in the middle of a group of Mozart songs, jump from his stool and plant an impulsive kiss on the cheek of the singer? Especially when the singer's Covent Garden debut had been as the Countess (all right not Mozart's but Massenet's but never mind- she's sung that role too.)
Her musical collaborator here was once Principal Harpist at Covent Garden, in the glory days of Callas and Schwarzkopf, Fonteyn and Nuryer. Perhaps he found the words of Mozart's "To Chloe" just too apt- "When love shines from your bright blue eyes, I just have to clasp you to my breast". And who could blame him? Clearly the passing of the years has not impaired his responses to music or to beauty. To all of which Jane Mackenzie brought womderful purity of tone and unfaltering phrasing and sensitivity.
Supremely satisfying was the interaction of the artists. True chamber music is for the players-and none would know that better than Bochmann as leader of a string Quartet. The audience is there as eavesdroppers. And special pleasure of this recital lay in the way the artists performed for us but also for each other.
Peter Williams
Hereford Times 10 April 2008
---
Snippets
"Applause for the Duo Watkins-Bochmann" ..... "Elegance, Energy and so much Talent"
Reggio Emilia - 17 July 2007
Headline "Watkins Touches The Strings Of The Soul"
Gazetta Di Parma (Italy) - 15 July 2007
---
Ancient history, modern harmony
David Watkins (harp)
City Museum & Art Gallery
The harp is one of the oldest musical instruments around and although David Watkins limited his potted history to its last five hundred years or so, the confines of an hour-long recital might have seemed barely sufficient.
But David more than achieved his objective, and with time in hand too, combining some truly delightful playing with spoken comment, in a most balanced and interesting fashion. Careful choice of music was of the essence, and it would have been hard to pick a more varied programme with which to move the audience gently forward through each successive phase of development in compositional and playing techniques. Of course, David's relaxed delivery and love of the instrument and its repertoire made this such an effortless journey.
Clearly the earliest music owed a lot to its keyboard and lute counterparts, and here David managed the contrapuntal lines with great assurance. Classical precision characterised Mayer's Mozart Variations, whilst all the familiar glissandi and instrumental effects were in place as the music progressed towards the twentieth century. Three Improvisations by William Matthias gave an insight into a more modern harmonic language and usage, with David's own Petite Suite not only providing a superb finale to such an enjoyable and absorbing recital, but also showing that there are indeed more strings to his bow than the almost fifty or so on his harp!
PHILIP R BUTTALL
Evening Herald 22 March 2007
---
More snippets ........
Churchill Music Club (Somerset)
"Both Bochmann and Watkins richly deserve their stellar international reputations"
Cheddar Valley Gazette - 15 December 2006

Concert in Florence with the famous Italian guitarist, Claudio Piastra. 6th September 2004.
Headline "Big Success in Florence for the guitarist from Parma in a duo with the great Watkins."
---
Grandiose Duo until the End
Michael Bochmann (violin) & David Watkins (harp)
Even after the first pieces the public were already in their hands. These Grandiose Musicians did not only play superlatively, not only matched each other beautifully, but radiated so much joy that the audience was immediately overwhelmed. Michael Bochmann played two dances from a Suite by Johan Sebastian Bach, a thoughtful Sarabande and a furious Gigue which he almost danced. The second part consisted of 14 well known short pieces arranged by Watkins and Bochmann. Traditional tunes, Arias, Caprices and Meditations and also folk melodies from England and Ireland which made the audience so happy that the musicians played three encores.
Markishe Allgemeine - 20 December 2005
---
Just how it should be done
Michael Bochmann (violin) & David Watkins (harp)
City Museum & Art Gallery

There are recitals which overrun, those which are dull and uninteresting, and ones even where the performance leaves something to be desired. This enchanting duo showed, in the space of one hour exactly, just how the job should be done.

First and foremost, of course, Michael Bochmann and David Watkins are highly accomplished players, in perfect empathy and ensemble. Secondly they had carefully planned a programme of great variety, which had just about something for everyone, and which didn't need cropping on the day. Most importantly, however, both players clearly savoured every note of their programme, whether a Vivaldi Sonata, an old chestnut like Bach's Air on the G string, or one of David's highly-entertaining folk song arrangements, and communicated their obvious delight to the packed audience. Spoken introductions were always anecdotal, and to the point, and were just the right length to keep the momentum going.

In a programme of some fourteen items, it would be hard to pick a single highlight. There was the exotic Peruvian soundscape in Andres Sas's 'Siembra', the effective use of violin harmonics in 'The Foggy, Foggy Dew', the rich harp sonorities of Zabel's 'Sad Marguerite at the Spinning Wheel', or the glorious violin tone in Massenet's 'Meditation from Thais'. Perhaps it was just that this recital's unmitigated success was simply down to the sum of its two, so unassuming performers.

PHILIP R BUTTALL
Evening Herald 18 November 2005
---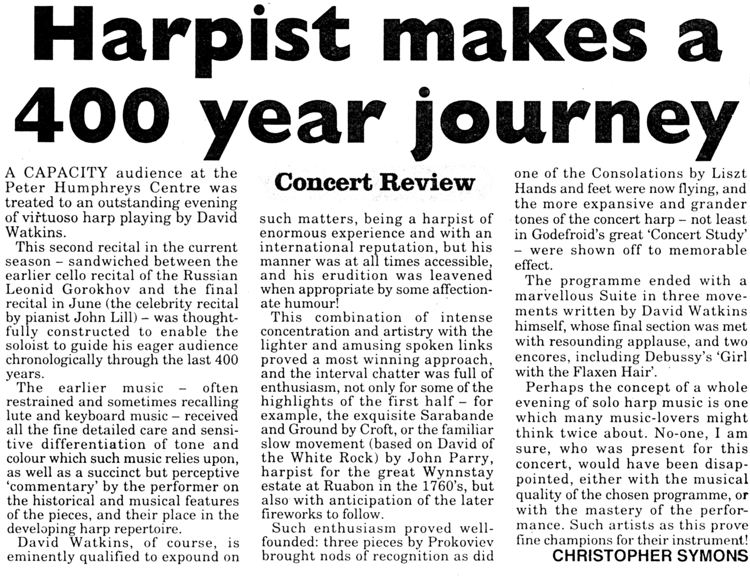 Shropshire Advertiser 22 March 2000
---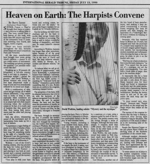 Heaven on Earth: The Harpists Convene
by Barry James
International Herald Tribune 13 July 1990
PDF FILE
To download a file to your computer
Windows: Right click the text link and select "Save target as .."
Mac: Hold down option and click on the text link
To open file click image & PDF will open in a new window - but you need Adobe Acrobat Reader Installed.
---
More snippets ..........
L.P.O. with David Watkins at the Royal Festival Hall conducted by Walter Susskind
"The programme included the British Premiere of David Watkins's "Concerto Pastorale" for harp and orchestra with the composer as soloist. The work revealed its composer's true heart in a slow movement of attractive simplicity, here, there were moments of a personal lyricism."
A.E.P Daily Telegraph, 29th January 1979
The London Early Music Group at St John's Smith Square.
"The rest of the London Early Music Group, particularly the harpist David Watkins played with great virtuosity and insight."
Simon Mundy. Classical Music Weekly, 30th September 1978
London Sinfonietta,Rattle, Watkins at the Royal Albert Hall.
"Later ,one could sense a sigh of security when the Sinfonietta at the fluent ease of Debussy's 'Danse Sacree et Danse Profane'- a lovely performance, generous in tone and feeling with a solo harp contribution (from David Watkins) of real sensitivity.
Edward Seckerson, Classical Music Weekly, 19th August 1978
London Sinfonietta, Rattle, Watkins at the Proms
"Debussy's 'Danse Sacree et Profane' for harp and strings, with David Watkins as soloist, received a persuasive performance at once chaste and sensuous."
Max Harrison, The Times, 7th August 1978
London Sinfonietta, Rattle, Watkins at the Proms
"Debussy's Danse Sacrée and Profane both made sensuous with David Watkins, a fine harp soloist."
The Guardian, 5th August 1978
"Music and Musicians"
Elizabeth Hall London Early Music Group (25th Jan 1997)
"One cannot single out in a group of such uniformly high competence, but neither can one leave unmentioned the superb harp playing of David Watkins working miracles of dexterity with the small levers that raise and lower the pitch of early-harp strings by a semitone, without causing the slightest ripple on the music's surface."
John Duarte. May 1977
Mr Watkins played his own Petite Suite and showed, as also in a sonata by John Parry, that he has a gift for delineating the melodies in a surround of elaborate figurations ."
D.A.W.M. Daily Telegraph, 31st March 1977
"Magic Revival" Elizabeth Hall
"Mr Watkins was also the soloist in a sensitively expressive account of Debussy's Danses."
Felix Aprahamian, The Sunday Times, 26th May 1974
David Watkins and the Belgrain Chamber Orchestra
"David Watkins played the solo part in Debussy's 'Danse Sacrée et Danse Profane'. Played by a small ensemble this was stripped of its sumptuous Elysian Folds to become something more sparkling and mobile; and it was good to hear the harp so clearly, particularly when Mr. Watkins was able to pluck a range of sounds from full rounded tones to prickly arpeggios."
Paul Griffiths, The Times, 21st May 1974
"London Debuts" Purcel Room
"His recital was enough to confirm his incisive agile fingerwork and lively sense of colour and, atmosphere. That he is a player with a racouteurs gift was proved by the reaction of his substantial audience, loath to let him go home. We can greatly look forward to having him again."
Joan Chissell, The Times, 11th April 1972
"Living Legacies"
"As at last Sunday's RPO concert, Mr. Kempe (The conductor Rudolf Kempe) excelled in Debussy.The languors of both Iberia and Faure were given with exquisite feeling, though the star studded RPO proved uneven as an ensemble. Not everything had the quality of Erich Gruenberg's violin solo in the Delius or David Watkins's harp in the Debussy."
Felix Aprahamian, Sunday Times, 20th February 1972