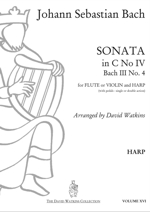 The David Watkins Collection
VOLUME XVI - Johann Sebastian Bach
Sonata in C No IV for Flute or Violin & Harp (with pedals - single or double action)
Arranged by David Watkins
Volume XVI - RRP £10.00 + p&p
His extraordinary output of choral and instrumental music embraced both his humanity and his intellectual genius. As with Handel, his instrumental suites include dance movements of the period.
This Sonata is for the flute or the violin with keyboard accompaniment which also sounds well on the harp. I have eliminated the last largo and minuet; they are rather weak endings for concert performance.
Between the Andante - Presto and the brilliant Allegro, I have inserted a beautiful Siciliano stolen from another Sonata (4S1017). Both Bach and Handel transposed movements between their compositions and I am confident that he would have approved of this one! It is a paraphrase both in musical and emotional terms of the aria "Erbarme dich" from the St Matthew Passion. I have accompanied the great violinist, Michael Bochmann, in concert performances both on the single and double action harps.
The printed phrase marks and dynamics are only a guide for a musical performance. In Bach's day the dynamics would be more "terraced" and more contrast between "piano" and "forte." The performer must feel free to choose!
Available on line from Creighton's Collection and all other good harp stores.
---
Instrumentation
Flute or Violin and Harp (with pedals - single or double action)
Publisher
David Watkins / Creighton's Collection
Catalogue No.
DW016
ISMN
979-0-57046-052-6
Edition Date
March 2012
Score Format
A4 Stapled score and part
Duration
8' 50" minutes
Grade
Medium-Difficult
Price
£10.00
return to index