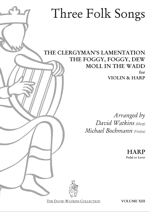 The David Watkins Collection
VOLUME XIII - Three Folk Songs
for Violin & Harp
Arranged by David Watkins (harp) & Michael Bochmann (violin)
The Clergyman's Lamentation
Moll in the Wadd
The Foggy, Foggy, Dew
Volume XIII - RRP £8.00 + p&p
These tunes have been recorded by Michael Bochmann and David Watkins on the CD
"The Triumph of Time Part II"
The Clergyman's Lamentation: This haunting melody was written by the famous blind Irish harpist, O'Carolan. This Clergyman was sad, as for political reasons, he was not allowed to preach in his own church. Moll In The Wadd: We do not know who Moll was, or what she got stuck in, but this joyful Irish jig certainly released her from whatever it was perhaps a gangster gave her some money?!! The Foggy, Foggy, Dew: This is one of the most famous folk tunes from the British Isles with many different words to describe a rather delicate situations. However this young weaver is sensitive, caring and pragmatic.
Available on line from Creighton's Collection and all other good harp stores.
---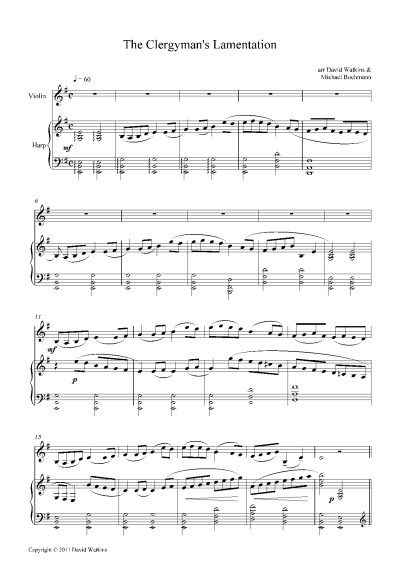 Instrumentation
Violin & Harp (with or without pedals)
Publisher
David Watkins / Creighton's Collection
Catalogue No.
DW013
ISMN
979-0-57046-031-1
Edition Date
February 2011
Score Format
A4 Stapled score and part
Duration
2' 44"; 1' 10" ; 1' 33" minutes
Grade
Medium
Price
£8
return to index