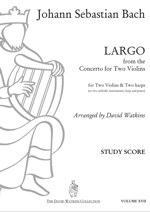 The David Watkins Collection
VOLUME XVII - Johann Sebastian Bach
LARGO from the Concerto for Two Violins
for Two Violins & Two Harps (or two melodic instruments, harp and piano)
Arranged by David Watkins
Volume XVII - RRP £12.00 + p&p
I made this arrangement for a concert in Chelsea Town Hall, when I was Patron for the Charity "Concertina". Michael Bochmann and I thought it would be great if we could involve two talented young musicians - Giles Thirkettle (violin) and Verity Thirkettle (harp).
This Largo is one of the most beautiful slow movements ever written and the ingenious counterpoint between the two solo violins combine to create music with the greatest emotional impact.
Performance Note:
The second harp part can be played on a keyboard instrument - piano or preferably a harpsichord or organ.
Available on line from Creighton's Collection and all other good harp stores.
---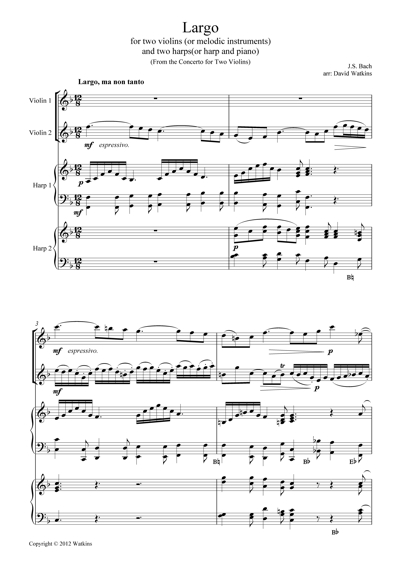 Instrumentation
Two Violins & Two harps (with pedals)
(or two melodic instruments, harp and piano)
Publisher
David Watkins / Creighton's Collection
Catalogue No.
DW017
ISMN
979-0-57046-073-1
Edition Date
December 2012
Score Format
A4 Stapled score and 4 parts
Duration
8' 50" minutes
Grade
Medium-Difficult
Price
£12.00
return to index