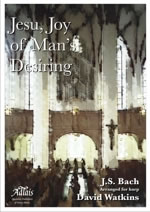 Jesu, Joy of Man's Desiring
Fantastic piece for Church Wedding Ceremonies.
When Bach took up his post as Cantor at Leipzig in 1723 he had to provide a new work each week. The chorale 'Jesu bleibet meine Freude' known in English as 'Jesu, joy of man's desiring' comes from Cantata no. 147, first performed on 2 July 1723. The arrangement for concert harp is by David Watkins, and is dedicated to Frank Sternefeld.
RRP £6.50
Available on line from Creighton's Collection and all other good harp stores.
---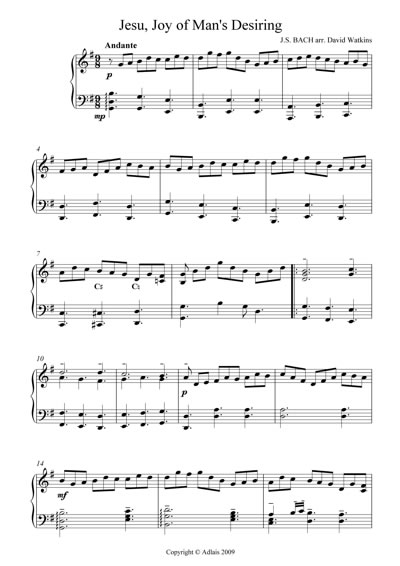 Sorry - not yet available

Jesu, Joy of Man's Desiring
J.S. Bach

arranged for concert (pedal) harp
David Watkins

Instrumentation
Solo harp
Publisher
Adlais Music Publishers
Catalogue No.
Adlais 169
ISMN
M-57032-150-6
Edition Date
First Edition September 2009
Score Format
A4 Stapled
Duration
4' 00 " minutes
Suitable for
Medium ability pedal harpists
Price
£6.50