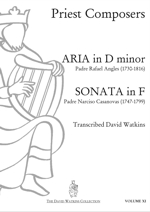 The David Watkins Collection
VOLUME XI - 'Priest Composers'
Transcribed for harp David Watkins
ARIA in D Minor - Padre Rafael Angles (1730-1816)
SONATA in F - Padre Narciso Casanovas (1747-1799)
There have been many Priest Composers in the history of music, notably Antonio Vivaldi (1676-1741), but many of the lesser known composers, (often Spanish) wrote delightful music, and, were obviously needed to write religious music for the church. Both Angles and Casanovas were Spanish and show imagination and skill in these keyboard pieces which transcribe so well for the harp and pair well for concert performance. The long melodic line and harmonic sequence in Angel's Aria is both moving and masterful and Casanovas's Sonata, delicious and scintillating.
Volume XI - RRP £8.00 + p&p

Available on line from Creighton's Collection and all other good harp stores.
---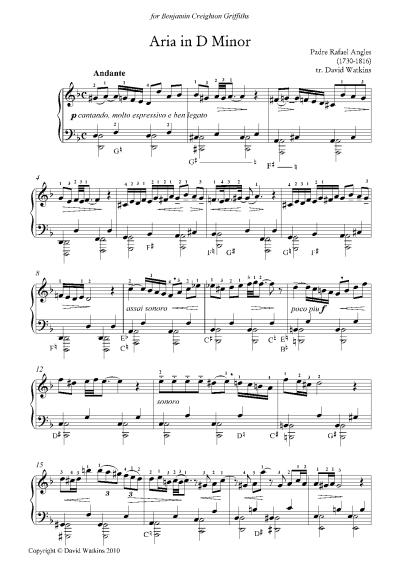 Instrumentation
Pedal Harps
Publisher
David Watkins / Creighton's Collection
Catalogue No.
DW011
ISMN
979-0-57046-018-2
Edition Date
September 2010
Score Format
A4 Stapled
Duration
2' 40" & 2' 50" minutes
Grade
Medium
Price
£8
return to index