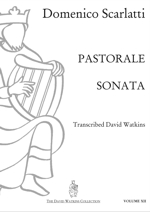 The David Watkins Collection
VOLUME XII - Domenico Scarlatti
Pastorale Sonate
Transcribed for harp David Watkins
Born in Naples, Scarlatti soon established himself as a virtuoso harpsichordist rivalling Handel with his keyboard skills. Nearly half his life was spent in Spain, where his keyboard compositions were inspired by the astringent harmonies and subtle rhythms of Spanish Folk Music. While the Pastorale and Sonata are relatively unknown the simplicity of the Pastorale belies a sophisticated architecture with a large emotional impact. The Sonata is inspired by the "Jota", a gritty and exciting Spanish Dance. These two pieces pair well for Concert Performance.
Volume XII - RRP £8.00 + p&p

Available on line from Creighton's Collection and all other good harp stores.
---
Instrumentation
Pedal Harps
Publisher
David Watkins / Creighton's Collection
Catalogue No.
DW012
ISMN
979-0-57046-019-9
Edition Date
September 2010
Score Format
A4 Stapled
Duration
2' 00"; 3' 15" minutes
Grade
The Pastorale is Easy to Medium Grade
The Sonata is Medium to Difficult Grade
Price
£8
return to index