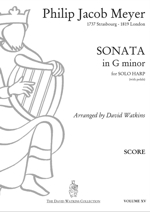 The David Watkins Collection
VOLUME XV - Philip Jacob Meyer
Sonata in G minor for Harp (with pedals)
Arranged by David Watkins
Volume XV - RRP £6.50 + p&p
A fine harpist, composer and harp maker whose first studies were with Christian Hochbrucker and then came to Paris where his virtuoso playing was acclaimed at the famous 'Concert Spirituel'. In 1763, he published one of the first Methods for the pedal harp entitled 'An Essay on the correct manner of playing the harp'; the English version was published in 1774.
His son Fréderic-Charles (also a harpist) credits his father with introducing the pedal harp to London in 1772 at a concert in the Hanover Square Rooms. His compositions are always elegant and in the 'Style Galant'. Nicanor Zabaleta was the first harpist to bring this Sonata to the public. This edition is closer to eighteenth century sources.
Available on line from Creighton's Collection and all other good harp stores.
---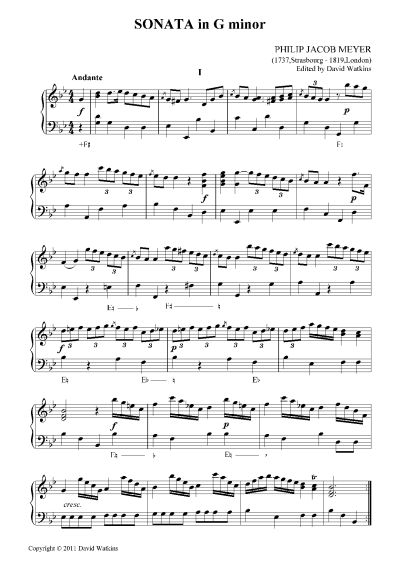 Instrumentation
Solo Harp (with pedals)
Publisher
David Watkins / Creighton's Collection
Catalogue No.
DW015
ISMN
979-0-57046-042-7
Edition Date
June 2011
Score Format
A4 Stapled score and part
Duration
9' 30" minutes
Grade
Medium
Price
£6.50
return to index