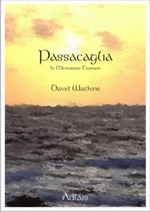 Passacaglia in Memoriam Tsunami
Composed in 2005: To remember all those who suffered pain, bereavement, and whose lives and dreams were shattered by the Iraq War and the Asian Tsunami. The Passacaglia is based on the repetitive pattern of four bass notes, Eb, Ab, Db, Bb. It is brutally broken by a discordant E natural as the wave engulfs everything in its path. Time goes on, and peace and hope return.
RRP £6.50
Available on line from Creighton's Collection and all other good harp stores.
---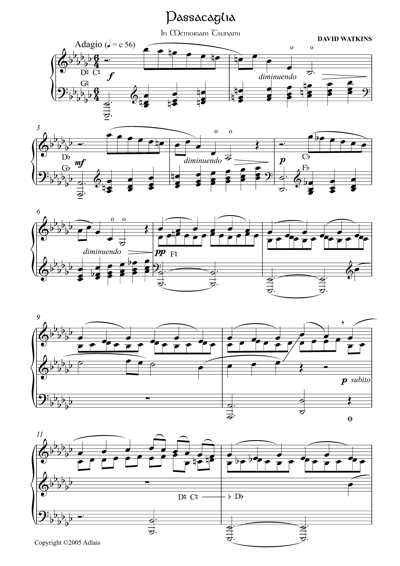 Notes
Composed in 2005: To remember all those who suffered pain, bereavement, and whose lives and dreams were shattered by the Iraq War and the Asian Tsunami.

The Passacaglia is based on the repetitive pattern of four bass notes, Eb, Ab, Db, Bb. It is brutally broken by a discordant E natural as the wave engulfs everything in its path. Time goes on, and peace and hope return
Passacaglia
In Memoriam Tsunami

David Watkins

Instrumentation
Solo harp
Publisher
Adlais Music Publishers
Catalogue No.
Adlais 137
ISMN
979-0-57032-236-7
Edition Date
Second Edition: November 2015 (first published 2005)
Score Format
A4 Stapled
Duration
4' 00" minutes
Suitable for
Grade 7
LCM Grade 7 List C (2007-08)
Price
£6.50