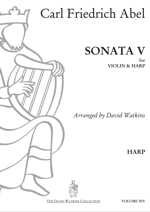 The David Watkins Collection
VOLUME XIV - Carl Friedrich Abel
Sonata V for Violin & Harp
Arranged by David Watkins
Volume XIV - RRP £8.00 + p&p
Carl Friedrich Abel was born in Cothen in 1723 and was renowned as a Viola da Gamba player. From 1743 to 1757 he played in the Dresden Court Orchestra, and from 1758 was a chamber musician to Queen Charlotte in London, an appointment he shared with J.C. Bach. His compositions are elegant and well crafted and include some fine Sonatas for violin and harpsichord.
This Sonata for violin and harp is taken from the "Music Remains" of Edward Jones, a collection of pieces by various composers including J.C.Bach. Edward Jones, a Welsh harpist, came to London and performed at one of the Burney house concerts in May 1775. Fanny Burney, in a letter to Samuel Crisp mentions that "he played upon a Harp with new pedals constructed by Mr.Merlin. (Josef Merlin the ingenious mechanic). As this sonata is in the key of Eb - the usual tuning for this new and fashionable harp, I am sure that it would not have been played on the Welsh triple harp. Rather tellingly, the front cover of the "Musical Remains" shows a scroll top pedal harp, which might indicate Edward Jones's preferences.
The simplicity of the sonata belies its musical impact and the rhythmic writing for the violin is often symphonic in structure. Michael Bochmann and I are always surprised that it is such a popular piece in our concerts. Abel collaborated with J.C.Bach in the famous Bach-Abel concert series. He died in 1787.
I am grateful to Dr Mike Parker for giving me a copy of the original score for violin and harpsichord to which, for a concert in 2011, I added the string quartet accompaniment (see Volume XIVa)
Available on line from Creighton's Collection and all other good harp stores.
---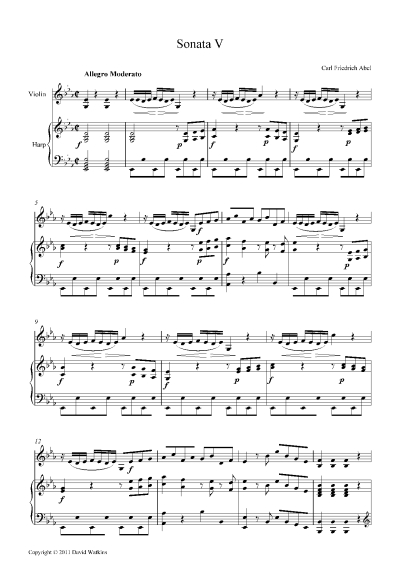 Instrumentation
Violin & Harp (with pedals)
Publisher
David Watkins / Creighton's Collection
Catalogue No.
DW014
ISMN
979-0-57046-032-8
Edition Date
June 2011
Score Format
A4 Stapled score and part
Duration
6' 00" minutes
Grade
Medium - Difficult
Price
£8
return to index