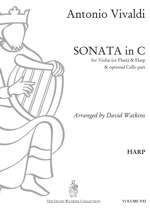 The David Watkins Collection
VOLUME XXI - Antonio Vivaldi
Sonata in C
for Violin (or Flute) and Harp with optional Cello part
Arranged by David Watkins
Volume XXI - RRP £10.00 + p&p
Vivaldi was the most prolific of composers and very popular during his lifetime. J.S. Bach was fascinated by his energy and transcribed several of his compositions. Todaywe are captivated by his rhythmic vitality and descriptive creativity, most notably in his Four Seasons for violin and orchestra. I transcribed this beautiful Sonata from a Trio which was originally written for violin, lute and basso continuo. I found the Trio in 1961 when I was studying in Paris.

Available on line from Creighton's Collection
and all other good harp stores.
---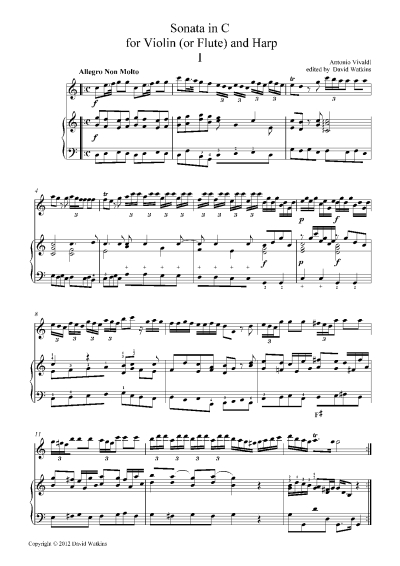 Instrumentation
Violin (or Flute) and Harp with optional Cello part
Publisher
David Watkins / Creighton's Collection
Catalogue No.
DW021
ISMN
979-0-57046-119-6
Edition Date
December 2014
Score Format
A4 stapled score and two parts
Duration
7' 40" minutes
Grade
Medium
Price
£10.00
return to index